https://www.officebeacon.com/blog/virtual-assistant-skills/
virtual assistant services
virtual assistants
Top 10 Virtual Assistant Skills to Look Out for in 2023
January 23, 2023
7 min read
By

Kirti Goyal
TABLE OF CONTENTS
Virtual assistants add incredible value to the lives of busy business owners. Besides boosting productivity and improving work-life balance, virtual assistants help you cut overhead costs and optimize resources. But here's the thing.
Though remote workers are immensely valuable for growing companies, you may end up with a bad fit due to a lack of clarity on the virtual assistant skills you should look for.
In this post, we highlight ten basic (but vital!) virtual assistant skills. These may vary as per role and job requirements but nonetheless are a good referential point for your next hire.
Whether you source talent directly through company channels or rely on referrals, industry networks, or managed marketplaces, ensure your virtual assistants possess the following skills to enjoy a long-term and smooth working relationship with them.
1. Domain Expertise
Subject matter expertise is the top virtual assistant skill to test. Your virtual assistant must have a strong grasp of industry trends and best practices to ace their job.
Freelance marketplaces and communities have both emerging and seasoned talent. Depending on business priorities and budget, you can hire beginners, intermediate, or experienced professionals to manage your tasks. 
Firms hire independent workers for many duties, but the most in-demand virtual assistant services include:
Bookkeeping
Different from accounting, virtual assistants offer invoicing, data entry, billing, reimbursement, reporting, payroll, and reconciliation as part of virtual bookkeeping services. They help you manage day-to-day company finances and ensure your accounts are accurate and up-to-date.
Email Management
A virtual assistant handles your personal or company email to review and resolve customer queries. They check all incoming emails, send follow-ups, and flag emails that need your attention. You can also entrust them with email marketing and reporting. 
Content Writing
Content writers create short and long-form content for both digital and print publications. They write blogs, email newsletters, brochures, ebooks, guides, digital ads, and website copy to strengthen your digital marketing.
Social Media Management
It includes tasks like creating and managing social media profiles, creating strategies, and posting and curating user-generated content to build a brand online. A social media virtual assistant also runs paid campaigns and collects user feedback via polls.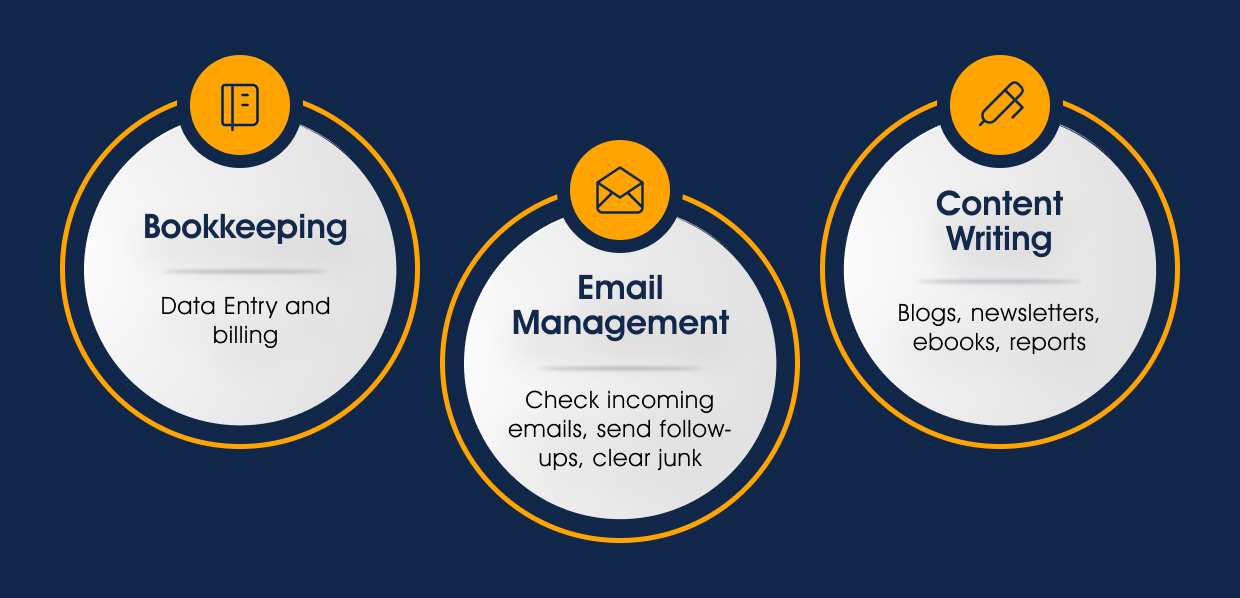 Back-office Administration
Virtual assistants handle non-core tasks that don't add to the bottom line directly. An umbrella term for inessential activities, a back-office specialist helps you maintain employee records, prepare reports, and manage office equipment infrastructure, and supplies.
Audio & Video Editing
You can hire virtual assistants to remove unwanted background voices, synchronize audio and video tracks, add special effects, adjust color balance, and create soundtracks to enhance the quality of your multimedia assets.
Web Development & SEO
Independent website and app developers deploy leading technology and best practices to build intuitive websites and apps. Whereas SEO specialists offer on-page, off-page, and technical SEO audits to improve your platforms' visibility on search engines and app stores.
Customer Service
Businesses rely on customer service reps to answer customer questions, provide information, and solve complaints. They trust reps to deliver exceptional customer experience and ensure complete satisfaction by processing returns, exchanges, and refunds.   
2. Technical Acumen
Website and software developers need high technical prowess to create scalable world-class digital solutions for your business. But even for non-tech roles, basic IT knowledge is essential for day-to-day tasks.
Your virtual assistant must be able to collaborate seamlessly over modern communication and project management tools and track new updates, without needing daily reminders from your team.
Likewise, good command over marketing technology comes in handy when you need your virtual assistant to create excel reports, presentations, design collaterals, or manage CRMs like Salesforce or HubSpot.
Computer literacy and comfort with trying new tools would make it easy for them to be on your software stack.
3. Communication
Virtual assistants often have to context switch and multitask while collaborating with clients. Being remote, they collaborate on project management software and attend video meetings in real-time to brainstorm and discuss ideas.
When hiring, check your potential candidate's experience with sync and async communication tools and if they can communicate effectively. 
4. Attention to Detail
Detail orientation is a critical skill for virtual assistants handling administrative tasks like payroll, scheduling, or managing projects. They should be sharp-eyed and active listeners, able to distill complex ideas into handy notes for reference.
Businesses rely on virtual assistants to create error-free content, emails, and presentations. Whatever the role, ensure your virtual assistant can minimize distractions and turn in the best quality work on time. 
5. Team Collaboration
You may be looking for a personal assistant to plan and manage your calendar. Or your marketing team may need a designer to create graphics and videos for social media. Either way, both roles require a virtual assistant to collaborate with your team to understand priorities and act proactively on them. 
Probe into shortlisted candidates' work experience in a global and remote team setting. Do they come from a background of collaborative culture and are skilled in the practice of collaboration?
Glean their responses for awareness of, as Harvard Business Review puts it, "appreciating others, being able to engage in purposeful conversations, productively and creatively resolving conflicts, and project management" for team performance. 
6. Time Management
Nothing kills productivity like procrastination. And with the rise of the digital era, it's almost impossible to ward off distractions, with our devices constantly lighting up with the latest news and the next big breakthrough.
Virtual assistants are not immune to this sensory assault. Add multiple clients into the mix and the ability to manage time effectively to maximize productivity and hit deadlines is apparent.
Top-rated contractors are masters of the art of effective time management and know how to manage their schedules to get more done in less time. To test for time management skills, ask candidates to run you through their approach to handling big-ticket projects and high-priority tasks all due around the same week.
7. Organization
Organization and time management go together. It's hard to be organized without effective time management and vice-versa. Many independent contractors are solopreneurs who juggle multiple clients at once and chase competing deadlines.
If your virtual assistant doesn't have strong organizational skills, they'd struggle to prioritize deliverables and likely miss deadlines.
Ask prospective hires open-ended questions about their daily workflow and preferred style of working. Do they schedule tasks and create to-do lists? What systems and tools do they use to streamline administrative duties and manage projects? Check answers for insights into their working style and if it fits yours.
8. Self-Motivation
In-house employees trade full-time jobs with alternative opportunities to work on their terms. The freedom to pick flexible working hours, clients, and projects is a strong incentive. According to a 2021 Upwork survey, American freelancers contributed $1.3 trillion in annual earnings to the US economy and more than half of non-freelance respondents expressed an interest in freelancing in the future. 
But freelancers also go in-house in search of a steady and predictable income.
Independent work is appealing but it also has its fair share of challenges. To successfully navigate the ins and outs of a virtual work environment, your hire must have solid self-motivation and concentration skills. Screen the resumes for the potential hires' experience in a virtual environment and the client history.
Their work experience on LinkedIn can also hold clues to reliability and credibility.
9. Analytical Bent
One common element between successful businesses is the will to measure performance and pursue effective strategies. Unless you hire a virtual assistant who's comfortable with data and can interpret it to discover what's working and not, you'd face difficulty identifying the right channels and tactics to focus on.
Social media is a powerful channel for SMBs to find traction with new audiences online. If you are a B2B company, LinkedIn paid ads may work for your business. Whereas for a B2C firm, Instagram may turn in good results. But without data to support either of these decisions, your virtual assistant may undertake social media activities that don't yield any results and waste resources in the process.    
10. Creativity
Creativity is not a hard skill for most jobs - unless you are hiring for a creative role. Think writing, design making, or audio and video editing. But beyond these functions, creativity is also necessary to discover novel solutions to complex business challenges.
If you don't have the time to share detailed briefs or offer constant supervision, your virtual assistant must be able to test and run with unique ideas that solve on-the-job setbacks. 
Bottom Line
Virtual assistants are an indispensable part of the post-pandemic workforce. Before hiring independent talent, identify skill gaps on your team and determine whether your business needs a full-time or part-time virtual assistant.
Get in touch to learn how Office Beacon empowers emerging businesses to build flexible teams and hit their goals.
---